If you are considering building your own custom home this year, you will want to dive into the stylistic trends that are influencing the market in 2018.
This is a great article for homeowners who are considering building their own custom residence for two reasons. One, it gives you and your loved ones fresh inspiration that you can potentially incorporate into your own design. Two, these updates will keep you on top of current trends to ensure that your investment sits in line with market demands. Even if you plan on living in your home for the next 20 years, you never know what curve balls life might throw your way. If a scenario presents itself where you have to sell, the amount you receive for your custom home could be drastically higher if it falls into the style or trends categories that are demanded by buyers.
So what are the trends that you need to be paying attention to in 2018? Here are 4 of the top trends from your friends at Cherry Lane Homes.
1. Gentle, Warm and Harmonized
Homes are gravitating to a more natural esthetic in 2018. You will notice this trend become even more prevalent in geographic areas that are surrounded by natural elements, such as the beautiful mountains that surround Kelowna, British Columbia. This trend is often described as "softening the home", utilizing neutral tones, colours and finishes to bring a soothing presence to the living space. Think slate greys, warm tans and rustic beiges. If you are building a custom home, you should be incorporating as much natural light as possible, flooding each room with soft exterior lighting. You will see many homes rediscover the power of using and decorating with raw or natural woods, mixing those aesthetics with metals.
Concrete stamped counter and floors are really gaining traction in a lot of custom building circles. The glossy finishes might be gone for a while pushed out by black and white matte finishes.
2. Smart Homes
This might go without saying, but technology needs to be top of mind when building in 2018. Homeowners and buyers are expecting a device-infused home that can easily be controlled and adapted with smart devices. There are companies that offer smart locks, cameras, and thermostats- all these items will make your life easier as a homeowner and they also make your home more attractive to the suave buyer. Smart home systems can also save you money and keep your family safe. Imagine you leave for vacation but you forgot to adjust your thermostat. No problem, simply adjust the temperature to an energy saving level and enjoy the rest of your trip through an app on your phone. What if you received a video text message every time your door was unlocked? The custom homes being built in 2018 will be safer and more efficient than ever before.   
3. Messy Kitchens
Open concept kitchens ruled the custom home market for so long but that looks to be changing moving forward. The downfall of the open concept kitchen is the mess that is created while you are cooking. You have your friends over for dinner and you are excited to show off your new kitchen but after cooking a 4-course meal, the dirty pots and pans are an eyesore that takes away from the rest evening.
Messy kitchens or luxury pantries are small rooms that are connected to your main kitchen that provides an area to store bulky items, prepare food items and cook particularly messy dishes. This simple addition allows you to keep an open concept kitchen for entertaining while still having enough space to cook whatever culinary creations your heart desires.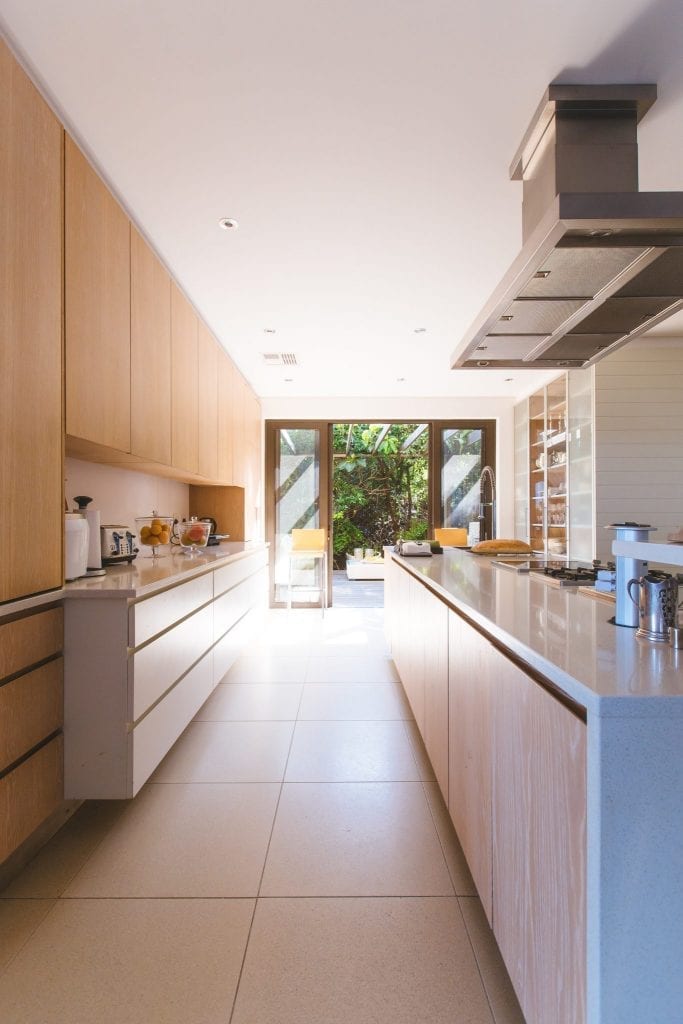 4. Appliances
The appliances that fill your home can be the difference between an impressive custom build and a lacklustre homestead. Just like the actual physical structure, the decor and the colours you use in your home, the appliances you choose need to fall in line with current trends.
Panel disguised appliances are becoming increasingly popular. If planned out in the building stage, your fridge, washing machine, dryer, washer and oven can all be disguised to look like part of your home. A fridge can appear like a pantry door, while your oven will blend in with all the other cabinets. If homeowners are not disguising their appliances they are opting for matte black and white options over the old, stainless steel trends. If you are looking to be extremely progressive, glass fridges are also becoming popular- just make sure you keep your fridge nice and tidy!
Have all these trends got you excited about the possibilities of your future custom home?